Folge 22: Wie entsteht ein Buch?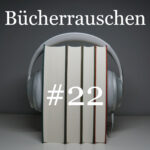 Wie entsteht eigentlich ein Buch? Was passiert alles bis aus dem fertigen Manuskript der Autor*innen das gedruckte Buch wird? Wir nehmen euch in dieser Folge mit durch die verschiedenen Abteilungen im Verlag bis hin zur Druckerei und zur Verlagsauslieferung und erklären euch, was alles mit dem Manuskript passiert, damit am Ende ein Buch im Handel stehen kann. Unser Buchtipp ist dieses Mal von Carina und zwar die Light Novel "You Shine in the Moonlight".
Carinas Buchtipp ist "You Shine in the Moonlight" von Tetsuya Sano, erschienen bei Egmont Manga.
(Musik: All over now – GEMAfreie Musik von https://audiohub.de)
Hier direkt die Folge anhören: